2019 Cam Link (

YouTube

):
https://www.youtube.com/watch?v=P2FNQ6tAyEo
Glaslyn, Wales - webcam is online
https://www.glaslynwildlife.co.uk/live/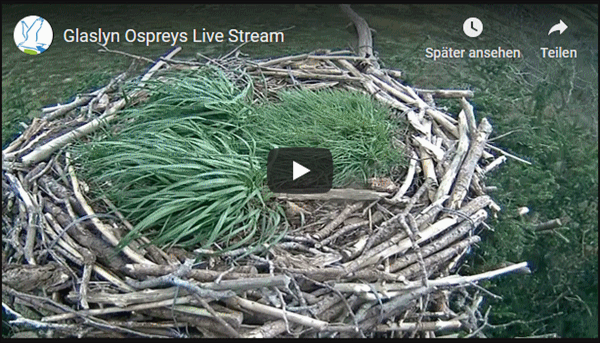 Happy St David's Day to all Glaslyn Osprey followers!

Despite the wind and rain, there are signs that spring is on its way. The snowdrops and daffodils are in flower, the frogs are spawning and already the birds are singing and finding mates before they start building their nests. Of course, spring in the Glaslyn Valley means only one thing! It heralds the return of our magnificent Ospreys.



To celebrate St David's Day, we are launching our Annual Live Streaming Appeal. We had planned to switch the nest camera on early this year to coincide with the launch, but while we were testing the system we discovered a fault. At the moment we do not know whether the fault is related to the terrible weather and flooding we are currently experiencing or whether a piece of essential equipment has failed. We will keep you informed of the situation. You can rest assured that we will be working hard over the next few days to ensure that the fault is fixed and we will switch on the nest camera as soon as possible to make sure we don't miss any unexpected visitors to the nest – be it a raucous raven or cheeky squirrel or an early osprey! We will be prepared for that special moment when our iconic Mrs G lands on the nest for her 17th breeding season, with Aran not far behind her!
https://www.glaslynwildlife.co.uk/2020/ ... ay-appeal/
Pont Croesor Flooding
https://www.facebook.com/BywydGwylltGla ... 118921907/