---
Peris: A Four Day Vacation. Posted: Sunday 18th August 2019 by Emyr MWT
This week Peris returned from a four-day holiday.

He set off at just before 9am on Friday, 9th August, and by Monday morning we had actually put his departure time in our Dyfi Migration Age chart.

Surely Peris was too young to have migrated at 74.2 days?

There are occasional records of British osprey fledglings having migrated at 70-something days old - Rothiemurchus for example, who migrated at around the same age as Peris and successfully returned two years later as an adult - but it's far from common. Had Peris migrated or come to an ignominious end?

Our questions were answered at 08:40 on the Tuesday morning - four days to the minute almost - when Peris returned
https://youtu.be/mS7XFFwSy0Y
Where had Peris Been?

It is fairly uncommon for fledglings to disappear like this for so long and then return several days later; I have certainly not seen this within the Welsh population.

Let's look at some possibilities of where Peris might have been:

1. Migration: He actually started his migration and could well have travelled several hundreds of miles before the weather triggered him to rethink and return; after all, the weather was pretty terrible for migration at the time.

2. Travelling: He had been travelling around the vicinity, possibly visiting other nests. This certainly happens with young fledglings and only this week we saw a young bird from the Snowdonia nest (ON4) land on the Glaslyn nest briefly.

3. Mummy's Boy: He's been down river with Telyn (who was also 'missing' for a couple of days at the same time) who provided him with food, negating the need for him to return to the Dyfi nest.

KC1 - a male fledgling from the nearby ON4 nest visits the Glaslyn nest this week (©BGGW)
Behavioural Changes

Maybe there are clues here in Peris's behaviour that could help us understand where he has been?

He returned a very different bird to the one that left four days earlier. He was aggressively screaming for food, the likes of which I haven't seen before. He was fiercely defending the nest from his siblings and had gained a level of independence you only really see in adults that are defending their nests from other intruding ospreys.

Peris - fiercely independent
It was fascinating to watch. It was as if an 'independence switch' had been activated in his brain; gone were the previous traits of sibling sharing, tolerance and patience, replaced by a ruthless streak of autonomy and self-determination. Peris against the world.

Of course, these adult-type behaviours will serve him well when he reaches Africa, he'll need them and then some; we're just not used to seeing such independent characteristics at the stage of life Peris is at right now - one of three siblings sharing a nest, just four weeks after having taken to the air for the first time.

We'll never know for sure, but based on behavioural observations of Peris after his return, I believe that he actually started his migration. That 'independence switch' was indeed triggered and the fact that he was ferociously begging for food upon his return suggests to me that he wasn't just out of sight, down river with Mum supplying him with fish. These were the behaviours of a bird that had not eaten in four days.

The fact that the UK was gripped by 60mph winds at the time lends support to this 'changed my mind' hypothesis.

Did Peris actually start his intended migration at 74 days old?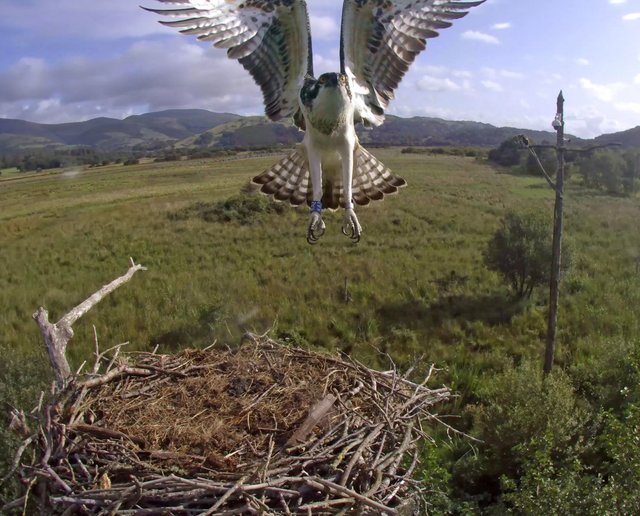 As I said last week, we will never know everything... every good story needs an element of mystery.

Peris returns, ferociously independent - and hungry...
http://www.dyfiospreyproject.com/blog/e ... y-vacation
---
Posts: 3641
Joined: Feb 25, 2018
Location: Texas
What an interesting story.......Only Peris knows, and maybe mom.
carolyn
An upside down dog is a happy dog dreaming sweet dreams.
carolyn
---
August 24:

It looks like placid Berthyn has found her feisty side. In the last couple of days we have seen her standing her ground with her brothers, even chasing Peris right off over the reserve. A strong character will certainly help her in the next stage of her journey and beyond. We think she will make a super osprey one day. Do you?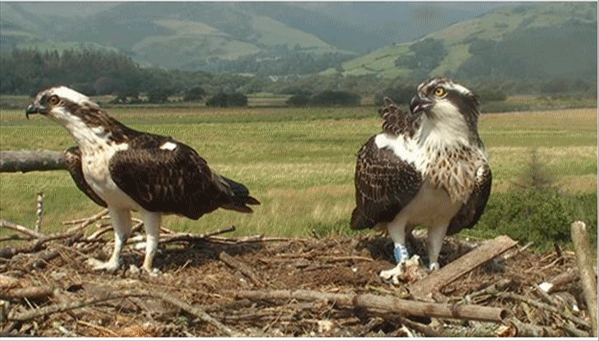 August 25:

We have been enjoying a glorious bit of sunshine this Bank Holiday Weekend. Berthyn definitely rules the roost at the moment and is not letting Hesgyn spend any length of time at the nest.

Neither Telyn or Peris have been seen since Friday but we know better than to make any assumptions where those two are concerned...
August 26:

Is Berthyn our last chick standing? After being chased away from the nest all day yesterday, we have not seen Hesgyn yet today. Still no sign of Peris or Telyn. Only time will tell if they are on their way south. Last orders at Monty's Fish Bar, it's nearly closing time......
August 27:

It's that time of year again when Monty looks forward to the the last few days in Wales by himself. Telyn and two of his offspring have almost certainly departed for warmer climes, leaving just Monty and his eldest daughter, Berthyn.
https://www.facebook.com/dyfiospreyproj ... 0028273855
---
We had arranged for our telephone and broadband to be terminated on 2nd September, not this morning. Running DOP without Live Streaming, Chat, emails, messages and a working till has been, umm... interesting.

We still have live pictures at DOP, so will bring all the osprey updates to you using a cellular signal from the Obs as often as we can over the next few days.

Thanks again to you all, your support has meant a lot to us on this very difficult day, operationally.

Berthyn still with us, still demanding food. That's about the only thing today that has not changed
https://www.facebook.com/dyfiospreyproj ... 0028273855
Dyfi Osprey Project @DyfiOspreys-29 August

Unfortunately we are unable to live stream today. This is due to a miscommunication with our broadband provider resulting in our connection being cancelled early. Both Monty and Berthyn have been on the nest today. We'll do our best to keep you updated.
https://twitter.com/montwildlife
---
Posts: 3641
Joined: Feb 25, 2018
Location: Texas
Ahhh, the mishaps of the Internet. I am glad they are still there for now, not long though.
carolyn
An upside down dog is a happy dog dreaming sweet dreams.
carolyn
---
- Berthyn Going Nowhere -

DyfiOspreyProject ~ 4 hours ago, am 30.08.2019 veröffentlicht

We've just popped up the road for some internet...

Berthyn is still here as is her personal fish-deliverer, Monty.

Very high winds, lots of crows and it's starting to rain.
https://www.youtube.com/watch?v=U2CSj0I ... e=youtu.be
---
31 AUG 2019

Berthyn is still with us - as is Monty - on this rather autumnal last day of August. She is 97 days old today.

If she is still here tomorrow she will acquire the record of oldest Dyfi youngster to migrate, currently held by Dulas in 2011.

Q. Do all ospreys migrate? Any examples of an osprey staying the winter in the UK?

A. They all go - 100% of them. For an osprey still to be here in the winter they would have to be sick or injured, this almost never happens.

Berthyn's urge to fly south is getting stronger everyday. Conversely, her urge to stay is diminishing. Very soon there will be a tipping point and she will be off.
https://www.facebook.com/dyfiospreyproj ... =3&theater
---
Posts: 3641
Joined: Feb 25, 2018
Location: Texas
Interesting! She will go very soon, we know it.
carolyn
An upside down dog is a happy dog dreaming sweet dreams.
carolyn
---
Berthyn 2 September 2019:
Our favourite female offspring this year is still with us; Berthyn is 99 days old today.

One last look back at the nest before heading south or just a breakfast check?
Berthyn 3 September 2019 on the birch perch...
Both Berthyn and Monty still with us this morning - 5th September.

Today's a big decision day for our ospreys... we have high pressure over Wales with gentle northerly winds, perfect for migration.

The urge to fly south will be very strong today; should be interesting...
6 September 2019 - As the sun sets and the shadows lengthen this evening, this is our final, nostalgic photo of the nest taken through the shutters of the Observatory just now.

Monty and Berthyn have almost certainly gone.

We last saw both of them yesterday morning - they may well indeed have taken advantage of the good migration weather on Thursday morning.

It's been an amazing season. We're taking this weekend off - the first since early March - and we'll be right back at 'ya next week with a blog, video and updates on the Dyfi Wildlife Centre.

But for now we say goodbye to our ospreys for another season.

So long and thanks for the fish.

Bon Voyage.

---
Posts: 3641
Joined: Feb 25, 2018
Location: Texas
Goodbye and gentle tears....what a year this was.....
Thank you Ferenz for the journey,
carolyn
An upside down dog is a happy dog dreaming sweet dreams.
carolyn
---