---
---
---
---
---
---
---
Laddie returns with big living fish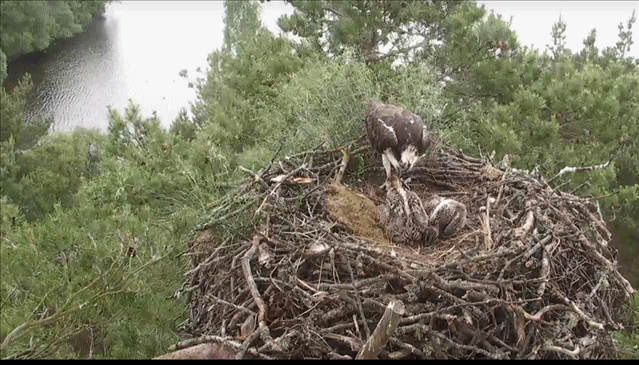 ---
https://goo.gl/zNW3h7
-
Blue LN1(18)m and Blue PT0(18)m.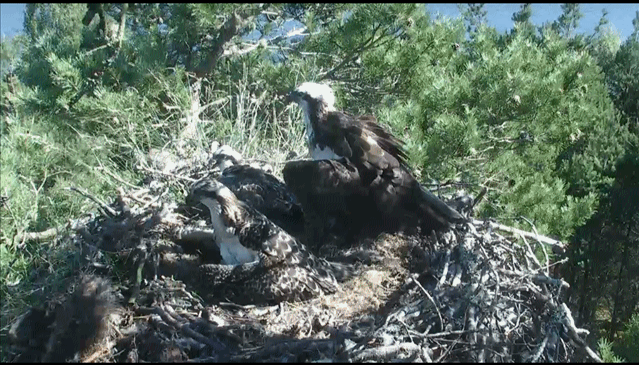 ---
1st chick PT0 fledged on Saturday 14 July
***update 15:00***

LN1 fledged

the nest and took his maiden flight at approximately 14:15 today.

The oldest of the two osprey chicks at the Scottish Wildlife Trust's Loch of the Lowes Visitor Centre and Wildlife Reserve near Dunkeld took its maiden flight this weekend just 53 days after emerging from its egg.

The osprey fledged

early on Saturday morning

. Since that time he has spent a significant amount away from the nest, flying around the loch and perching in nearby trees.

Both chicks have spent the last few weeks stretching their wing muscles and briefly hovering on the nest. The second osprey is expected to take his first flight in the next few days.
https://scottishwildlifetrust.org.uk/20 ... date-late/
https://www.facebook.com/LochoftheLowes ... 832029084/
---
26 August 2018 - Osprey Update: Has PT0 left for Migration?

Juvenile osprey PT0 has now not been seen by staff since Monday morning (around 10:30am), and it is believed that he (or she!) has left for migration. There was therefore a 10 day gap between LN1 and PT0 leaving Loch of the Lowes, though they both left within the usual time frame for young ospreys.

In the final few days before PT0 left, we saw that the juvenile had surpassed the size of LM12, which has made many of us at the visitor centre believe that PT0 is actually female. It's difficult to know the sex of the birds until they return to breed themselves, but there are a few indicators. Females are usually larger, which is why we are questioning PT0's sex, and often have a darker breast band.

She certainly made her presence known in the last week or so, calling very persistently for fish and behaving defensively on the nest. She has been quite the character throughout the osprey season, and we hope to see her around in a few years time.

LM12 is still around, having been seen eating a large fish on the birch perch on Wednesday afternoon, though it is only a matter of time until he will leave also. Male ospreys usually stay until their offspring have left, making sure that they have fish and are learning to fish for themselves. Now that both chicks have left, his job is done for another season.
https://scottishwildlifetrust.org.uk/20 ... migration/
© SCOTTISH WILDLIFE TRUST - LOCH OF THE LOWES
---
---